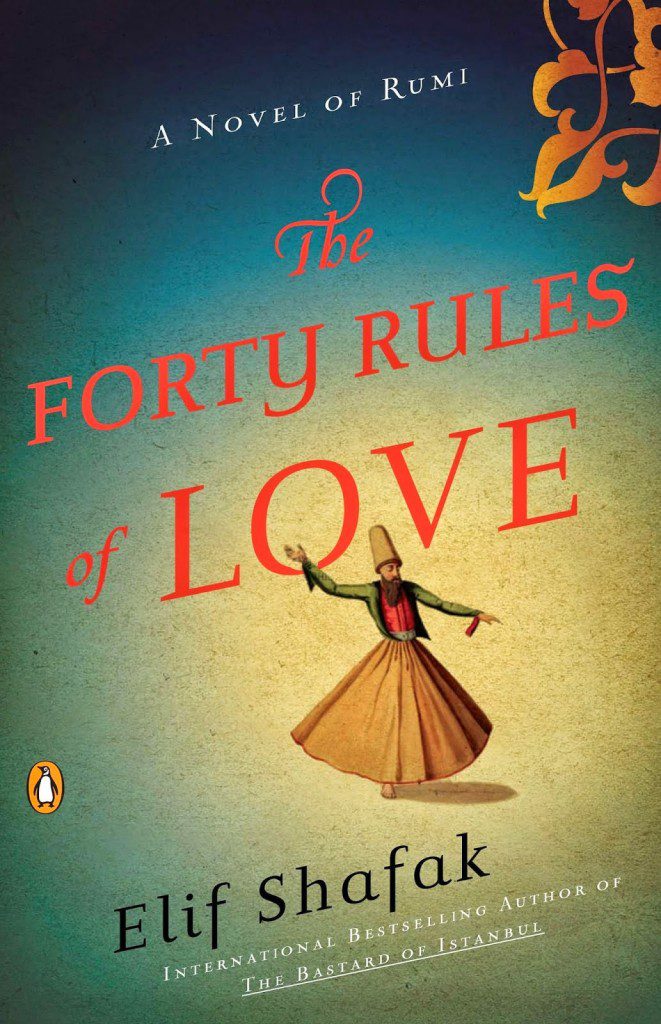 Moving seamlessly between 13th century Turkey and present-day United States, The Forty Rules of Love, tells two stories. The first is of the renowned poet-philosopher Rumi and how he met his soulmate, mentor and spiritual guide- the enigmatic and deeply spiritual Shams of Tabrizi (Shams). The second story is about Ella Rubenstein, who is 40 years old and unhappily married. Her kids no longer need her and her marriage is cold. She has started working as a reader with a literary agency and her first assignment is to evaluate a new manuscript by a man called Azia Zahara. As Ella reads Aziz's story about Rumi and Shams and the forty rules of love, she realizes that life is about more than what she has experienced or the rut that she is gotten into and that this novel and its mysterious writer will change her life and thinking just like Shams did for Rumi all those centuries ago.
Characters: In the thirteenth century story, the main characters are Rumi and Shams. Rumi is a renowned scholar and philosopher, who is respected by everyone around him. However, of late, he has been feeling a sense of ennui and been lacking in intellectual stimulation. Rumi is told that he will meet with his spiritual advisor, who will be a person who will change the way he looks at the world. Shams is a wandering dervish, who believes in universal love vs. dogmatic religion and he has these simple but profound 'forty rules of love' that he lives by. When Shams and Rumi meet, Rumi's life and worldview changes much to the dismay of his family, friends and the clerics in his city. Their story is one of Rumi learning about love and taking a much more spiritual view of life, God and religion rather than merely a dogmatic one. I loved Shams. He is so deep and inspiring and his forty rules of love are, indeed, something to live by! Here is my absolute favourite:
"Try not to resist the changes that come your way. Instead let life
live through you. And do not worry that life is turning upside down. How
do you know that the side you are used to is better than the one to
come?" 
See what I mean? These rules will change your life!

Or, at any rate, give you excellent food for thought.
Ella is also likeable. She is stuck in a rut and is struggling for happiness and purpose. Aziz's words (via his novel and then via email) drive her along towards finding more meaning in her life. Aziz is interesting, but a tad predictable. You almost know that he will mirror Shams in this equation and where his character is headed is also easy to guess, but this predictability does not really make a difference in the overall tale.  Of the two narratives in this book, I really enjoyed the story of Shams and Rumi. So inspiring and every rule makes you think, nod and take copious notes!
Download the book here in PDF/EPUB/MOBI