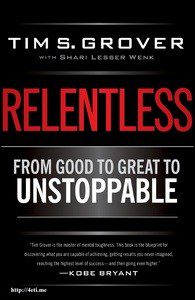 Direct, blunt, and brutally honest,Grover breaks down what it takes to be unstoppable: you keep going when everyone else is giving up, you thrive under pressure, you never let your emotions make you weak. In "The Relentless 13," he details the essential traits shared by the most intense competitors and achievers in sports, business, and all walks of life. Relentless shows you how to trust your instincts and get in the Zone; how to control and adapt to any situation; how to find your opponent's weakness and attack. Grover gives you the same advice he gives his world-class clients-"don't think"-and shows you that anything is possible. Kobe Bryant raves, "Tim Grover is the master of mental toughness. This book is the blueprint for discovering what you are capable of achieving, getting results you never imagined, reaching the highest level of success-and then going even higher." Relentless is about breaking the rules that hold you back and trusting your instincts to take you where you want to be. Packed with previously untold stories and unparalleled insight into the psyches of the most successful and accomplished athletes of our time, and with all new material for the paperback on achieving excellence in the face of impossible odds, Relentless shows you how even the best get better…and how you can too.
 Phenomenal book. Tim Grover knows exactly what it takes to become unstoppable and his work with Michael Jordan and countless other players backs it up. I have never read nothing like this and it's an eye opener if you want to take your life to the next level in anything, not just sports. The concept of coolers, closers and cleaners really helps to break down the good, the great and the unstoppable. Don't just read it…use it
***
SOME OF THE BEST QUOTES of Time Grover below:
• Never stop until you get what you want. Then keep going until you get what's next. Then you go for more. Relentless.
• If you don't make a choice, the choice will be made for you.
• Success is not the same as talent.
• When you fear losing, you can't focus on what you need to do to win.
• Everything is impossible, until someone does it.
• Whatever's in your glass now, empty it. We're starting fresh.
• In order to have what you really want, you must first be who you really are.
• If you want to be great, deliver the unexpected. If you want to be the best, deliver a miracle.
• Don't just perform the job. Reinvent it.
• Don't tell me what you're doing or what you're planning. Tell me after the job is complete.
• The janitor works quietly alone, late at night. No Attention. No one sees him work. No one knows what he does, but the job always gets done. It has to, so everyone else can do their jobs efficiently. He's got the key to every room in the building.
• Don't see problems, only situations to resolve.
• You must be willing to die trying.
• Know what you're worth and remind people when they make the mistake of forgetting.
• If you want to be the best, it's the details that make all the difference.
• Make the competition study you. Don't care who you're facing, you can handle anyone.
• Cleaners don't need a kick in the ass. Everyone else does.
• Show up. Work Hard. Listen.
• We have to this my way. You already have the talent. It's my job to show you what to do with it.
• You already have plenty of friends. What you and I do is professional. If we become friends, that's great. But I care more about your career and future.
• Total collaboration. But you agree to let me do what I do.
• With options, people usually choose the easier route. So I'm not giving you options. Let me do the thinking for the both of us.Show up. Work hard. Listen. Your job is to do the work.
• Everyday challenge yourself to do something you don't want to do. Otherwise the next day you'll end up with two or three things you don't want to do, then three, four and five. Pretty soon you won't even get back to the first thing. Then you'll beat yourself over the mess you've created and not you've built a mental barrier.
• Always think about your destination.
• Crave the result so intensely that the work becomes irrelevant.
• The challenge for me is taking someone great and making them even better.
• If you do what you always do, over and over, you'll get the same results.
• The goal: make the practice so hard that everything outside seems easy.
• 1) Where are you now.
2) Where do you want to be.
3) Make a plan to get there.
4) Act on it.
• Your mental focus and concentration, your ability to control your environment and the heartbeat of others, determines whether you succeed or fail.
• I help find the fuel to light the fire. I don't want to be the one who pushes the buttons. I want you to push the button yourself. As soon as you allow others to push your buttons, they've won.
• If you want to go somewhere new, you have to throw out the tired, old map and stop traveling the same road to the same dead end.
• When nothing is handed to you, you have to prove yourself everyday over and over.
• Stress keeps you sharp. It challenges you in ways you never imagined and forces you to solve issues and manage situations that send weaker people running for cover.
• In an individual sport if you quit, you quit on yourself. With a team sport, you have a lot of other people relying on you.
• Never feel external pressure. Believe what's inside of you. Know what you are doing right and doing wrong. Don't care what others think.
• I'm 100% certain that if you bring me into any situation, I'm going to have a positive impact on you.
• If you're willing to listen to what I'm asking, tell me what I need to know, and follow what I say, you're going to have some improvement.
• No fear of failure. It's about the hard work and preparation that go into knowing everything there is to know. Letting go of your fears and insecurities and trusting your ability to handle any situation.
• You have to be willing to fail in order to take risks.
• When you screw up, admit you're wrong and shoulder the blame.
"I fucked up." Now fix it.
• Confidence is not caring what others thing because even if you make a mistake, you know you'll get it right.
• If you did it, own it. If you said it, stand by it. That's your reputation. Make it count. If you want your opinions to have value, you have to be willing to put them out there and mean what you say.
• Maturity, experience, practice. The more educated you become the more you heighten your ability to adapt to situations because experience gives you a better understanding of nuance, those tiny details no one els would think of or recognize. Don't accept a single set of rules. Take what one person thinks and make it your own. Put together your own composite of learning; take what you know and believe, adding what others have taught you, and create your own set of beliefs.
• You don't have to like it. But you're going to like the results.
• Pressure. Accountability. Demand excellence.
• A great leader knows the best way to get people to raise their performance is to put them where the can truly excel.
• Don't focus on what you can't do. Find out what you can do and put yourself in a system where you can succeed.
• Follow your passion? How about work at it. Excel at it. Demand to be the best at it.
• Situation. Response. Outcome.
• Good things come to those who work.
• Figure out what you can do. Then do it. And do it better than anyone else.
• Making it to the top is not the same as making it at the top.
• Our relationship has to be based on trust or we can't get anywhere. You come to me with complete trust. You follow the rules, or you're wasting your time and mine.
• Success is not about how much money you make. Success is about doing things no one else can do.
• You get a small window to become a legend, you have the rest of your life to act like a kid. Push it as far as you can. You will have decades ahead to enjoy what you built for yourself.
• Nothing is impossible. Everyday I crave the challenge of proving that.
• You give me a situation, I'll make it work. That's what drives me.
• Every dream you imagine, everything you see and hear and feel in your sleep, that's not a fantasy, that's your deep instinct telling you it can be real. Follow those visions and dreams and desires, and believe what you know. Only you can turn those dreams into reality. Never stop until you do.
• The greatest battles you will ever fight are with yourself. You must always be your toughest opponent. Always demand more of yourself than others demand of you. Be honest with yourself and you'll be able to meet every challenge with confidence and the belief that you are prepared for anything.
• Life is complicated. The truth is not.
• The truth is simple. It requires no explanation, analysis, rationale, or excuse; it's just a simple statement that leaves no double You can look at it from every angle, flip it over, slice it up, smash it with an ax…it's still the truth.
"Tim Grover is the master of mental toughness. This book is the blueprint for discovering what you are capable of achieving, getting results you never imagined, reaching the highest level of success–and then going even higher." (Kobe Bryant)
"I consider Tim Grover to be second to none in his knowledge of sports training, and he was an invaluable part of my training program. He is a take-charge person, with a deliberate but energetic and enthusiastic technique." (Michael Jordan)
"Tim Grover's insight into leadership and excellence has taken the greats to the top, and his book will do the same for you. Relentless is about breaking the rules that hold you back and trusting your instincts to take you where you want to be."
(Mike "Coach K" Krzyzewski, Duke University and USA Men's Olympic Basketball head coach, and bestselling author of Leading with the Heart)
"This book will do for you what Tim has done for me–take you to the next level, and show you how to be the best at whatever you do. I have unbelievable trust and faith in him."
(Dwyane Wade)
"In all the years that I coached, inspired and trained world class athletes there was no better resource to collaborate with than Tim Grover."
(Pat Riley, 8-time NBA champion and NBA Hall-of-Fame coach)
"If you compete at anything–sports or business or life–you need this book. No one knows more than Tim Grover about competitive intensity, killer instinct and crushing the other guy. He is the best at what he does: Creating champions." (Charles Barkley)
"Grover finally marches the public behind the curtain of decades of work with the likes of Jordan and Kobe Bryant, a riveting read that balances the illumination of the work of those stars and how it can apply to everyone else. . . Magnificent." (Adrian Wojnarowski Yahoo! Sports)
Straight up. Relentless…is one of the best books I've ever read. (Jim Rome)
"An opus on successful thinking." (Sun Sentinel)
"A must-read… Grover calls upon his decades of experience working with the world's most eliteathletes to dissect what it takes not just to succeed, but to be the absolutebest." (Stack.com)