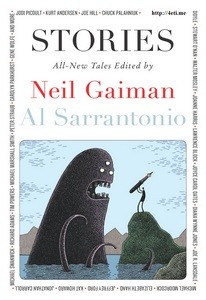 "The joy of fiction is the joy of the imagination. . . ."
The best stories pull readers in and keep them turning the pages, eager to discover more—to find the answer to the question: "And then what happened?" The true hallmark of great literature is great imagination, and as Neil Gaiman and Al Sarrantonio prove with this outstanding collection, when it comes to great fiction, all genres are equal.
Stories is a groundbreaking anthology that reinvigorates, expands, and redefines the limits of imaginative fiction and affords some of the best writers in the world—from Peter Straub and Chuck Palahniuk to Roddy Doyle and Diana Wynne Jones, Stewart O'Nan and Joyce Carol Oates to Walter Mosley and Jodi Picoult—the opportunity to work together, defend their craft, and realign misconceptions. Gaiman, a literary magician whose acclaimed work defies easy categorization and transcends all boundaries, and "master anthologist" (Booklist) Sarrantonio personally invited, read, and selected all the stories in this collection, and their standard for this "new literature of the imagination" is high. "We wanted to read stories that used a lightning-flash of magic as a way of showing us something we have already seen a thousand times as if we have never seen it at all."
Joe Hill boldly aligns theme and form in his disturbing tale of a man's descent into evil in "Devil on the Staircase." In "Catch and Release," Lawrence Block tells of a seasoned fisherman with a talent for catching a bite of another sort. Carolyn Parkhurst adds a dark twist to sibling rivalry in "Unwell." Joanne Harris weaves a tale of ancient gods in modern New York in "Wildfire in Manhattan." Vengeance is the heart of Richard Adams's "The Knife." Jeffery Deaver introduces a dedicated psychologist whose mission in life is to save people in "The Therapist." A chilling punishment befitting an unspeakable crime is at the dark heart of Neil Gaiman's novelette "The Truth Is a Cave in the Black Mountains."
As it transforms your view of the world, this brilliant and visionary volume—sure to become a classic—will ignite a new appreciation for the limitless realm of exceptional fiction.
********
"Weights and Measures" by Jodi Picoult
Medical examiners say that at death a person loses 21 grams of weight. The physical measure of a human soul. For Abe and Sarah, this loss is so much more than 21 grams. They have lost the opportunity to see their little seven year-old girl lose her first tooth, fill in love with a boy, and graduate from school. The weight of their loss will stay with them forever, but how can
they even continue on the next few days without their precious baby?
I have seen Jodi Picoult's name on the covers of novels for years, but had never read anything by her until I found this work here. I can see why she is so popular, even in short story form she really knows how to tug at the heart strings. Watching Abe and Sarah cope with the loss of their girl is incredible, and something that will stick with me for a while. At first, I thought the connection with the story's title and what happens was rather bizarre, and almost kept me from recommending this story. After thinking about it some more though, I thought it does work in a sense, so I let it go. I don't want to divulge more so as to not spoil anything. You can read it in Stories: All-New Tales. Download links below:
Download in EPUB

  (iPhone, Mac, Android, Nook/Sony)
Download in MOBI
   (Kindle, Mobipocket and FBReader)
 Sarah had met Abe when she was new to Los Angeles, and some friends had taken her to a cigar club that was so exclusive you had to enter through a corporate office building and give the doorman the password to be let into the correct elevator bank. The club was on the roof of the building, and Sarah's friends had tried to cure her East Coast homesickness by showing off Mel Gibson's humidor. It was a dark place, one where actors who fancied themselves to be musicians were likely to pick up a guitar and jam with the band; one that only made Sarah even more aware of how much she hated this city, this new job, this departure from where she really wanted to be.
They sat at the bar, pulling up stools beside a good-looking guy with hair as dark as ink and a smile that made Sarah feel like she was caught in a whirlpool. Sarah's friends ordered cosmos and tried to outflirt each other—getting him to reveal that he was the drummer in the band, and that his name was Abe. When one of the girls came back from the bathroom and exclaimed, Have you seen all the stars? Abe leaned over and asked Sarah to dance. They moved like smoke over the empty dance floor, to a canned jazz track. "Why me?" Sarah asked simply.
His hand, resting on the small of her back, pulled her just that much closer. "Because," Abe said, "when your friend started talking about stars, you were the only one in this whole fucking place who looked up at the sky."
Three months later, they moved to Massachusetts together. Six months later, they got married, amid many toasts and jokes about Abraham and Sarah and their destiny to create a tribe. But like their biblical counterparts, it took years for them to have a child—eight, to be exact. Just long enough for Sarah to believe it was time to give up trying. Just short enough for her to be overwhelmed with the news of her pregnancy; to never give a second thought to the fact that this might not be the end of the struggle, but instead, the beginning.